I have been awarded The Versatile Blogger Award by
The Steady Hand
!! Thank you SO much!!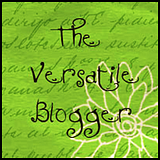 Here are the official rules:
Thank the person who gave you the award and link back to them in your post.
Tell your readers seven (7) things about you.
Give this award to fifteen (15) recently discovered bloggers.
Contact those bloggers and let them in on the exciting news.
7 Things About Me
1. I have been married for almost 26 years (anniversary next week). We have 3 children, 2 granddaughters and a new grandbaby due in December
2. I love couponing, crafts and bargain shopping
3. I'm a Stampin' Up! Demonstrator and have written a book "Couponing and other ideas that make Cents" and still trying to figure out what I want to be when I grow up. :)
4. I've lived in Indiana my entire life
5. My favorite crafts are card making, sewing and crocheting
6. I was a stay-at-home Mom for 13 years and an Avon Representative for 17 years