These are gifts that I made this year for Christmas
I made this for my niece. It's 1 1/2 yards. Printed fleece on one side and plain brown on the other. Lay wrong sides together, pin. Round the corners (I used a paper plate). Sew 1 1/2" from edge. Snip outer edge every 1/2" all the way around.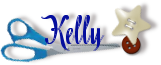 To learn more about Stampin' Up! or to place an order 24/7, click here.